A World at our Door - Local Markets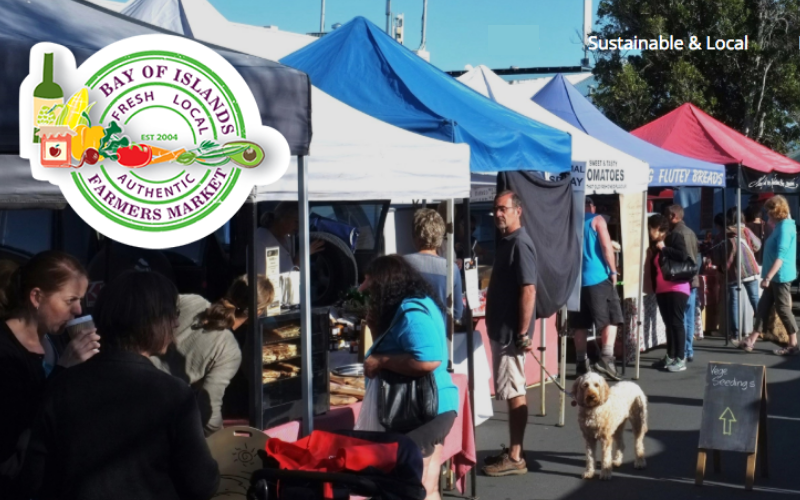 The Ecosystem of a Local Market
This week I get to introduce a local friend doing an amazing job New Zealand wide, and her article is a brilliant look at the world near our door called Local Markets. Liz and I share a love of the Kerikeri Market and after months of regular visits, the kids and I have our favourite stalls and items that we buy. We have a great fondness for Bob and 'Bob's apples', as well as the fruit juice icie's that he makes up. We always stop by Monica who brings manuka honey from the Hokianga. Trish supplies us with organic avocados, and Marty from Kerikeri Organics always has something that we just HAVE to buy. These people have become friends in a gentle kind of way, and are always good for a quick chat about what special things are happening on their properties.
Chances are if you look for them, there are local markets running every week near you. The people that come bring the things they've made and grown and offer a great gift. I encourage you to find and support the markets near your home. You'll be supporting local families, who then are able to support you with fresh food and many specialty items.
In Check it Out, Liz introduces you to one of the many businesses that she amplifies through her site called Natural Arena. If you haven't seen this site yet, and you are a fan of natural products, in one year it has become one of the best resources in New Zealand. New Zealand has a great variety of very dedicated small businesses making great products. Finding your favourites is another version of Local Markets. Have a fantastic week.
With love, Becky
p.s. – How did you go with the lettuce article? Let me know if you're planting and growing them.
A World at our Door- Local Markets
Liz Suggett
The smell of freshly ground coffee wafts through the air awakening my senses. I look down at the olive and rosemary bread on the table in front of me and I take another bite of my crepe and lose myself in the world around me and I do what I love doing, people watching.
As I survey the scene around me, people are chatting, friends are catching up, and every now and then there is a break in conversation to eat an olive, or savour the taste of a sliver of cheese.
On my left I see a woman's face light up as she sips the sweet, thick yellow liquid from the small glass and as my eyes travel to the bottle, I see it is the familiar Lemoncello of the region. A young couple in front of me chat with the server and discuss the crisp and refreshing taste of the Sauvignon Blanc and then ask for another glass. The sound of guitar music fills the air and the deep baritone voice of the country singer has me tapping my foot as the warm summer sun beats down on the busy scene.
As I sip my coffee, I sit back in my chair and think how much I enjoy going out for my Sunday morning breakfast. You may think I'm sitting in a cafe in Italy overlooking the Mediterranean, or in a square in a small French village nestling in the hills, but you would be wrong because I am in Kerikeri at the Bay of Islands Farmers Market.
We first discovered the Market in Kerikeri when we came to New Zealand on holiday from the UK. We were captivated by the variety of locally grown produce and the quality of the artisan products. We were also so captivated by New Zealand, and the Bay of Islands in particular, that we bought a house and have now settled in Kerikeri.
At this time in my life, the children had left home and we were starting a new life in New Zealand, I began to think a lot more about the way we were living, what we were eating and what I was putting onto and into my body. In the past, I had been too busy and obviously very naive. I believed that if companies sold a product and it was available in the shops then there could not possibly be anything in the product that was detrimental to my health. How wrong could I be?
Take for example Sodium Lauryl Sulfate (SLS) and Sodium Laureth Sulfate (SLES). Both chemicals are very effective foaming agents, chemically known as surfactants, and are used to make the products lather but both these are also skin irritants. And yes both are used in a lot of shampoo, soap, toothpastes, and detergents. And this is just the tip of the iceberg.
The time had come for me to make a change in my life and start using natural and organic products and return to nature, after all, that is how our ancestors have lived for centuries.
Having carried out a little research, I discovered that all over New Zealand there were small businesses producing and selling natural and organic products. A lot of these are family businesses, some are run by mothers or wives on their own, with help from husbands, partners, children and family and friends in the evenings and at weekends. Other businesses had grown and were now national, and some international but nowhere on the net could I find one website that brought all these people and products together.
An idea was born. But there's a big gap between having an idea and successfully launching a website particularly when you have very little background in computer knowledge. After research, taking on a web designer to build the site, and hours and hours of discussions and implementation, we took a very deep breath and pushed the button, and in July last year, Natural Arena went live on the internet.
The first few weeks were nerve-wracking, what if no one listed? What if no one visited the site? I didn't know which one was worse, but luckily I didn't have too much time to stop and ponder. Slowly but surely Natural Arena began to grow and after just over a year, it has evolved from being just a Directory (with over 130 businesses listed) to having Natural News, Reviews & Giveaways, Articles, Recipes, Events Calendar and Advise from Lesley in her Herbal Corner. We have also just launched a new Natural Gifts section which is the perfect place to find that natural gift for a special occasion.
For me, it has been a very steep learning curve and there are times I have been euphoric and times I have despaired and thought I'd give up, but through it all I have been amazed at the help and support I have received from business owners and users alike from right across New Zealand. I feel that in the zany cyber world of the Internet I have made many new friendships. I hope one day to meet them all as we travel around New Zealand and see the faces behind the email addresses.
I feel that natural living is the way forward, not just for me and my family but for the world as a whole, and I know that the army of believers is growing in New Zealand I hope that Natural Arena will grow with them and can do its part to spread the word.
And if you happen to pass someone sitting, lost in her own world enjoying her breakfast in Kerikeri Farmers Market on a Sunday morning, that will be me. Do stop by and say Hi. 
From You

Re: Lettuce Pray

"Nice article. Slugs LOVE Oregon... they are our number one enemy in the garden. I've taken to using eggshells. Rinse them & set them in the sun. They get really brittle and then can be easily crumbled around your plants.

Beer is OK... but just like us – they only like it pretty fresh. Plus – it is really nasty to change out that beer water filled with dead slugs. I've also at times just given plants over to them (usually lettuce) – so that they perhaps leave my other things alone!"
~Suz | Oregon
ps

"We are already one. But we imagine that we are not. And what we have to recover is our original unity. What we have to be is what we are."
~Thomas Merton