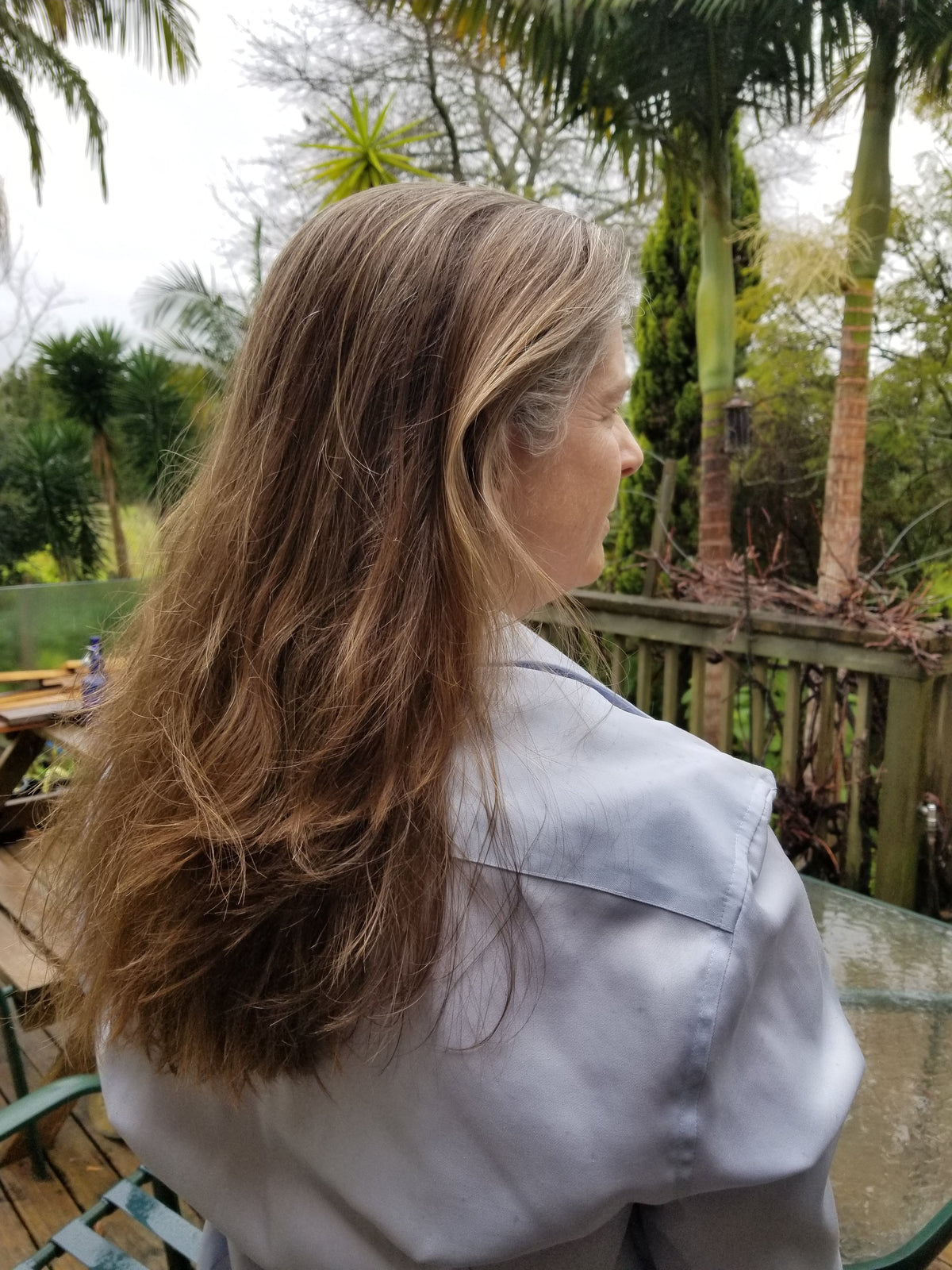 As plastic free July rolls down the hill toward August, we've all had another chance to audit our household use.  How did you go? What did you learn or change?
Aside from tending to the natural options, I try to make or use products that do many jobs, or figure out how to use less product.
Getting rid of the need for a product completely, rather than just substituting is an elegant solution, and the most recently abandoned product is SHAMPOO.
Somewhere in winter 2020, our house ran out of shampoo for a few weeks. We were going to the shops as little as possible, and living largely from our freezer and fruit and veg from the property. 
So, I just massaged my scalp every couple of showers, and got on with it.  It didn't bother me as I'd lived this way in the past when guiding on longer river or mountain trips.
It took a few weeks to learn how to keep my hair feeling clean, and my scalp healthy. And when shampoo came back into the house, I realised I didn't actually want the smell or fuss of it.
At two years of zero product being used on my hair, I'm absolutely happy with my routine and the health of my scalp and hair. By cutting a product completely, I have saved a lot of resources in money, product, time, and water use.
This is what I learned...
Shampoo is Optional
The scalp and hair will naturally balance without needing any products, at ALL.
Depending on how long your hair is, you may actually feel the oils progressively moving outwards from the scalp each week. This is your body's free "conditioner" and it's perfect for the health of your hair.
In the first weeks I massaged my scalp and kept pulling the hair outwards from the scalp to encourage the natural skin oils to dissipate from the scalp and move evenly along the hair.  It took about six weeks to feel that my hair no longer had that crunchy, dry feeling.
During that time, I massaged my head and hair in the shower about twice a week. Over the following months, my scalp re-balanced and stopped producing as much oil. It turns out when we keep stripping the oils from our hair, our skin is working overtime to replace it. Once I stopped shampooing, the scalp settled down.
I'm sure my scalp has appreciated the extra massaging, but it also appreciates not having the oils removed or new oils added that add residue to the skin. I now hot water massage the scalp about once a week, too easy!
After the shower I work across my head, drying and fluffing hair with my fingers. It feels wonderful and helps the hair dry easier and with more body.
There was a reason the old fashioned brushes had more bristles and that hair brushing was actually a hygiene habit like brushing teeth. Brushing hair is also distributing oils and keeping the hair shiny. Since stopping shampoo, I find that I enjoy brushing my hair more because it makes it feel smooth and shiny.
Long hair is better with natural oils.  It gets less tangled. Even after sailing, it's no big job to brush through it.
After decades of shampoo and conditioner media telling me that I absolutely need these products to be the (insert adjective) woman that I want to be, I love the freedom of realising, that actually, that's just marketing.
I wonder what product myth will go next?